Brief History | The Music | The Sound Design | The Soundtracks | The Sheet Music | The Team
Interviews | Video Interviews | Podcast and Audio Interviews | Audio Presentations
---
Last Updated: 2 September 2009
Halo just wouldn't be Halo without its music.
The exhilarating yet ancient feel to the musical score has come to define the Halo experience in many ways—people recognize Halo by its iconic music. In addition, Bungie's games feature seamlessly integrated musical experiences that are both dynamic and respond to the player's gameplay choices. The Bungie audio team, helmed by Marty "The Elder" O'Donnell, is always working hard to bring the best game experience to you. The team handles all audio in the games. If you hear something coming out of your speakers, it came from this team. Before we dive in, here's a brief history of the music magic.
In 1997, Marty O'Donnell's company, Total Audio, was contracted by Bungie to produce all of the audio for Myth: The Fallen Lords. Bungie cherished the work done by Total Audio and brought them on for the sequel called Myth II: Soulblighter. Shortly after, work began on what was to be Halo: Combat Evolved. Marty was the obvious choice for the game's audio, and he was once again contracted to work on the music for the Halo demo at MacWorld 1999. After discussing the feel of the music with Joseph Staten, Marty finished his necessary recordings mere hours before the start of the presentation. The result, however, was spectacular. Halo captured the audience's attention and emotions. In May 2000, Marty was hired as a full-time employee. Just ten days after his hire, Bungie was acquired by Microsoft, and the developer made the move from Chicago to the suburbs of Seattle. Marty then had the opportunity to work on the music and audio for Halo in its entirety.
Since those early years, the Bungie audio team has grown. Currently the team is comprised of Marty, his writing partner and co-founder of Total Audio, Michael Salvatori, Jay Weinland, C. Paul Johnson, and Mat Noguchi. The team does a large portion of their work out of the "Ivory Tower", Bungie's internal sound recording and engineering studio. Currently, the team is hard at work on the audio and sound design of Halo 3: ODST, as time approaches the game's September 22, 2009 release date.
The music of Halo is evocative and inspiring. It is both dynamic and interactive. The music of Halo is designed so that the player feels that their personal game experience was scored. They should never be aware of what they did to cause it to be scored. The music is Marty and Michael's gig. Marty frequently closes the door and works on new compositions using the piano. He plays until he hears something that sounds exciting and gives him a "cool feeling", and then he works in that direction.
Before the music comes out of the speakers, though, it goes through a complex mixing and layering engine that outputs the characteristic Halo music we have all come to love. By introducing different types of music based on certain triggers, the music has a very natural progression that results in its grandiose, cinematic sound. Marty calls some of his different music pieces glue (ambient), stingers, and percussive (more active, building excitement) pieces. They work in tandem to give the player a unique total audio experience that is always engaging and changing.
Beyond just the music, the audio team is also responsible for all of the in-game sound effects and dialogue. C. Paul and Jay create all of the sound effects from weapon sounds to the familiar sounds of the vehicles in the games. Additionally, all of the ambient noises and sounds are very carefully and intentionally created. The team uses a suite of internal tools to create and tweak sounds just the way they need them. Often the audio team will spend hours making the smallest changes to a sound so that it conveys the right message and emotion. For some sounds, the team will find what they are looking for online. For others, they leave the secure confines of Bungie Studios to seek out interesting and unique sounds that can be found throughout the outdoors and elsewhere.
As for dialogue, Bungie games contain two types: in-game and cinematic. Both, however, are recorded similarly. The "Ivory Tower" has many features, including a recording studio. This allows the audio team great flexibility in regards to the dialogue recording process. Bungie invites their voice actors to come to the studio for their voice recording session. Marty directs them, and sometimes Joseph Staten, Bungie's Writing Director, sits in on the recording sessions as an advisor. There are also situations when dialogue is needed, but for various reasons it has yet to be recorded. In those situations, an audio team member jumps in and records placeholder dialogue. This dialogue can then be used as a substitute in the current game build until the final version is recorded and edited properly.
All three Halo games have included an ever-staggering amount of dialogue. Halo featured over 8,000 lines of dialogue. Halo 2 featured over 21,000. Halo 3 featured almost 40,000 lines. With each game release, the audio team outdoes themselves. If you're curious which voice actor voiced each character, check out HBO's Voice page!
The Halo soundtracks have become the best-selling game soundtracks ever released. The Halo Original Soundtrack was released on June 11, 2002 to critical acclaim. It featured all 26 tracks with a full range of musical styles. The Halo 2 Original Soundtrack Volume 1 launched into retailers a little over two years later, on November 9, 2004. This 21 piece volume not only contained musical pieces arranged by Marty and Michael, but also featured several "inspired by" tracks from bands like Incubus, Breaking Benjamin, and Hoobastank. Volume 2 wasn't released until April 25, 2006 due to legal issues. Despite its late entry, this 30 piece volume boasted an even stronger set of the game's musical pieces, led by its twelve epic suites. Together, the Halo 2 Original Soundtrack volumes were well received, going on to sell very well. The Halo 3 Original Soundtrack was released on November 20, 2007. This two-disc package included twelve suites totaling 32 pieces (including a bonus fan-made song called "LvUrFR3NZ"). The Halo 3 Original Soundtrack received high marks and many awards.
In addition to being well received, the Halo soundtracks have been featured many times on Video Games Live and PLAY! A Video Game Symphony concert tours. The music even opened for the 2008 Game Developers Conference and London Games Festival.
Each Halo soundtrack has been produced by Nile Rodgers under the label Sumthing Digital.
Are you looking to buy the soundtracks? Be sure to hit up Sumthing Digital's site.
Additionally, stop by the official Halo 3 Original Soundtrack site, Halo3OST.com, for loads of info on Bungie's most recent Halo game soundtrack!
Also, be sure to check out the two tracks that Marty's released for free:
Halo 3 E3 2007 Trailer track
Halo 3: ODST Announcement Trailer track
Many fans have taken it upon themselves to not only transcribe the Halo score, but to write their own Halo-inspired music. The largest collection of fan-transcribed Halo sheet music can be found at Rampancy.net. Additionally, many fans are interested in purchasing the official sheet music. A great resource for purchases is either SheetMusicPlus.com or MusicNotes.com.
Halo-inspired music can be found across the interwebs. There is a small selection that can be found here at HBO.
Marty O'Donnell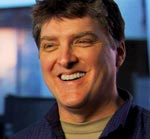 Marty is currently both the Audio Director and Composer for all Bungie projects. Marty received a Masters of Music Composition degree with honors from USC. He started a new company called Total Audio with his long-time friend and writing partner Michael Salvatori. Throughout the 80's and 90's, Marty's company produced countless jingles and scores for TV, radio, and film. He began his work with Bungie in 1997 when his company was contracted to work on Myth: The Fallen Lords. During his tenure at Bungie, Marty has worked on Myth: The Fallen Lords, Myth II: Soulblighter, Oni, Halo: Combat Evolved, Halo 2, and Halo 3. He is one of the longest employed staff members of Bungie, hence his name "The Elder". Marty is also very good at pushing the coffee cup around, or so say his coworkers.
Marty's wife, Marcie, received a Masters in Choral Conducting. She both conducted and sang in the choir during Halo 2's production and continues to assist her husband with his audio work as best as she can.
Besides work, Marty has a great passion for the piano, an instrument he learned to play as a child. He frequently will work out new compositions on the piano and then transpose parts for the rest of the orchestra. He has been married to his wife, Marcie, for a very long time. He also has two daughters named Alison and Christine.
Hot Links
Check out Marty's bio at Bungie.net!
Learn more about Marty by visiting his Wikipedia, Halopedia, or Bungiepedia pages!
Join Marty's official fan site, The Marty Army!
Follow Marty on Twitter!
Marty's ultimate website, TotalAudio.com!
Want to know what Marty does in a given day? Hit the jump!
Discover the "origin" of Marty!
---
Michael Salvatori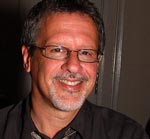 Michael currently assists Bungie as both an Audio Engineer and Composer. Michael and Marty are longtime friends. Together they founded Total Audio (see Marty's section for more information), for which they are both still co-owners of. Marty currently works for Bungie while Michael oversees the business side of Total Audio. Michael also collaborates with Marty on his compositions and ongoing audio work for Bungie projects. Michael has helped to engineer, produce, and compose significant parts of the Halo audio experience. Often the two will bounce ideas off of each other, resulting in an even better final product!
More recently Michael worked on the game music for "Stubbs the Zombie in Rebel Without a Pulse" and "Hail to the Chimp". Outside of work, Michael lives with his wife in Chicago. He also has four daughters.
Hot Links
Check out Michael's bio on MobyGames.com!
Learn more about Michael by visiting his Wikipedia page!
---
Jay Weinland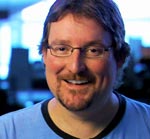 Jay is currently the Audio Lead and a Sound Designer for all Bungie projects. Jay spent five years studying at Oberlin College and Conservatory in Ohio before going on to teach high school orchestra for 5 years. He then switched to audio in the video game industry beginning in the 90's, and has remained there since. Jay is often known as the "Man behind the Man" and frequently jokes around with his coworker and boss, Marty. Jay is a science fiction and sports aficionado in addition to his love of beer ("insanely hoppy variety"), peppered beef jerky, and Jolly Ranchers.
Jay lives in the Seattle area with his wife, actress Heather Hawkins, and his two children, Duncan and Tessa.
Hot Links
Check out Jay's bio on Bungie.net!
Learn more about Jay by visiting his Halopedia or Bungiepedia pages!
---
C. Paul Johnson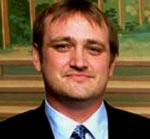 C. Paul is currently a Sound Designer for all Bungie projects. C. Paul is a Sound Synthesist major from the Berklee College of Music in Boston. He joined the audio team in 2004 after his internship under Marty. He works closely with Jay on the sound design and audio of Bungie's games. Marty has also mentioned C. Paul's natural curiosity and skill in recording sound effects from all over—whether he finds them indoors, outdoors, daytime or night. For example, remember that satisfyingly squishy yet crunchy sound you hear every time your head gets impaled by a sniper round in Halo 3? You can thank C. Paul for putting in the hours and recording the fateful hammer-on-cabbage action.
Hot Links
Check out C. Paul's bio at Bungie.net!
Learn more about C. Paul by visiting his Halopedia page!
---
Mat Noguchi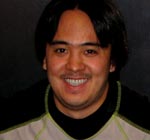 Mat is currently a Senior Programmer. He assists the audio team as an Audio Programmer. Mat started his programming career as a developer on Microsoft's Visual Studio. After being underworked for six months, Mat made the switch from "an uninspiring job" at Microsoft to Bungie in December 2000 and has loved it since. As an Audio Programmer, Mat is responsible for helping the audio team to develop and utilize its sounds effects and design tools. In other words, Mat designs news things for the audio team to use in the sound engine. Mat was vital in making the interactive, dynamic audio that Bungie's games feature a reality. His coworkers have given him the endearing nickname "Gooch".
Hot Links
Check out Mat's bio at Bungie.net!
Learn more about Mat by visiting his Halopedia page!
Want to know what Mat does? Read about his past and current responsibilities!
Have a question for Mat? Ask Noguchi!
Find out what an average day for the Gooch is like!